Last Friday, Marvel dropped the Avengers: Endgame trailer, one of the most highly anticipated trailers of the year. It broke the record for the most viewed trailer in history with 289 million views in just 24 hours.
That's Insane!
Its been a week since the release and fans can't fathom how no one has set out to save Tony Stark, after seeing glimpses of him stranded in space with his food and water supplies running out. They asked Marvel to cut the hero a break, after all, he's been through so much!
Taking matters into their own hands, fans decided to spam NASA on Twitter, creating a trend, pleading with them to help save the beloved philanthropist and tech extraordinaire.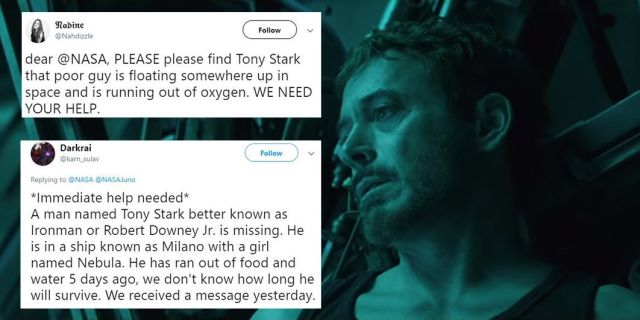 Hello Mr @NASA can you please rescue Tony Stark he's stuck somewhere in outer space and his food and water supply ran out four days ago his oxygen levels are depleting WE DONT KNOW HOW LONG HE HAS BEFORE HE DRIFTS OFF PLEASE pic.twitter.com/nlsISwYAVK

— 🍑 adie (@yeheypizza) December 9, 2018
They managed to solicit a response from the space agency.
NASA replied saying:
Hey @Marvel, we heard about Tony Stark. As we know, the first thing you should do is listen in mission control for "@Avengers, we have a problem." But if he can't communicate, then we recommend ground teams use all resources to scan the skies for your missing man pic.twitter.com/zavXrsPljq

— NASA (@NASA) December 9, 2018
However, fans were not satisfied with NASA's response and so they decided to turn to real-life Iron Man, technology entrepreneur, investor, and engineer, Elon Musk.
Hi Mr. @elonmusk please work together with @NASA to save Tony Stark. You two met each other back in Hotel De Paris in Monaco. You have the resources to save him. -from one of your @Tesla fans.

— Roz Carzo (@ozrac) December 9, 2018
Dear @elonmusk can you plz go to space and save tony stark for us? @NASA doesn't seem to care

— peter (@woesTV) December 9, 2018
@elonmusk Hey. Remember your boy Tony Stark? You met him snd that race where a guy with whips ruined everything. Well he's stuck in space now. Could you like send a Tesla out to get him or something?

— Toby (@toby_haha) December 9, 2018
Musk replied as well but with a single word, "Machete", which is a reference to his cameo in Machete Kills where he sends Danny Trejo into space.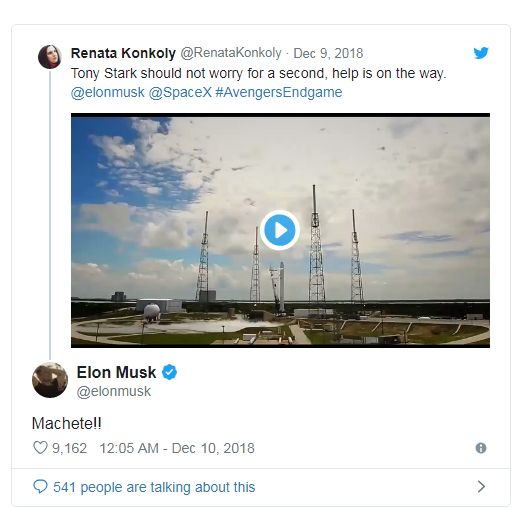 Hang in there, Tony!
Rescue operation "Save Tony Stark" is under way. You'll be home in no time and it's all thanks to your loyal fans.